Audi Seattle Now Offers Audi at Your Door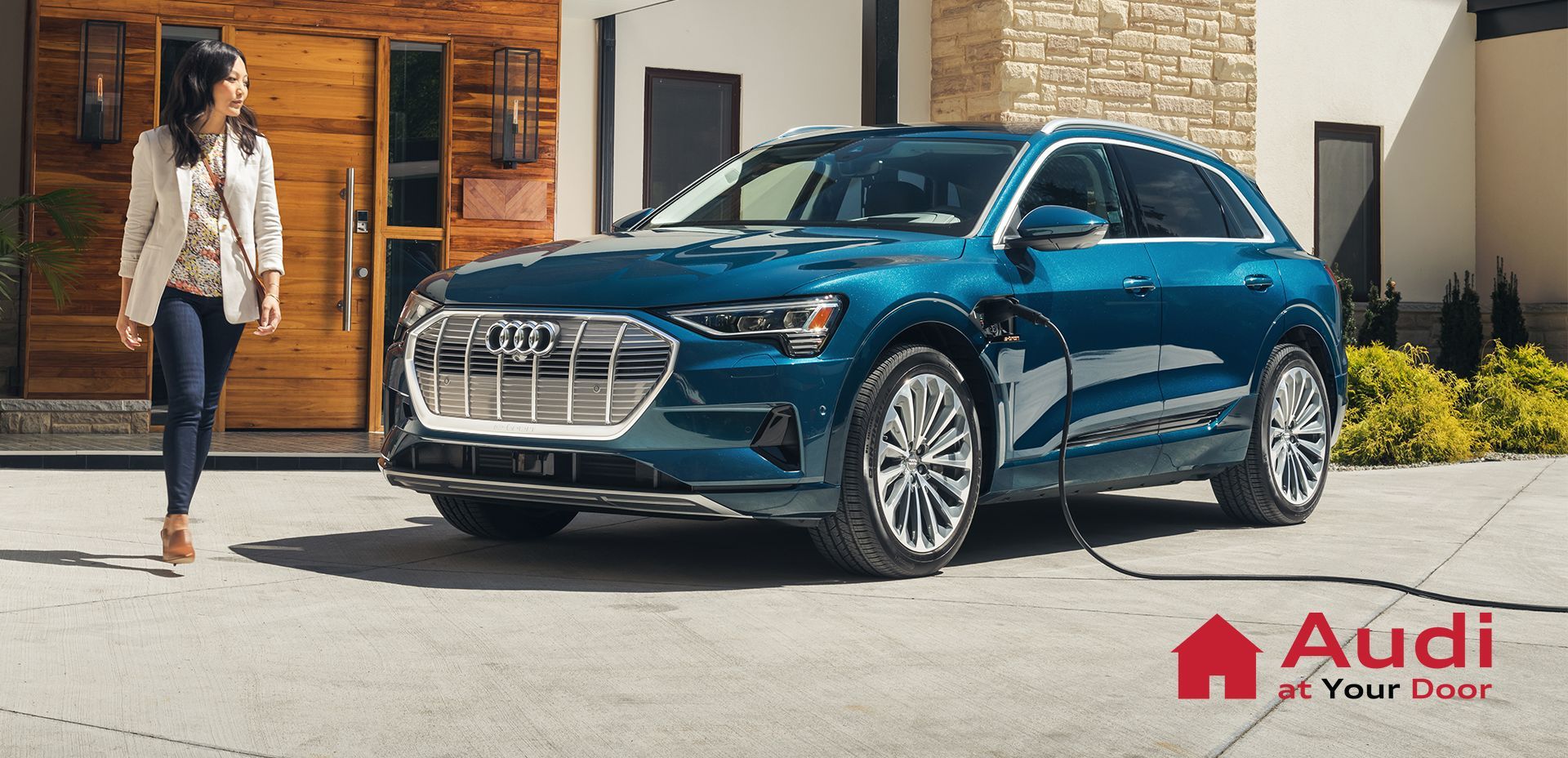 Audi at Your Door
A personal Audi experience as thoughtfully designed as our vehicles.
We recognize the needs of our shoppers and owners have changed.  Audi at Your Door is designed to give you a premium online shopping experience and peace of mind that your Audi dealer operates with your safety in mind. 
With Audi at Your Door, through Audi Seattle, you can: 
Have the test drive brought to you 
Appraise your trade-in virtually 
Work remotely to purchase your vehicle and have it delivered directly to your door 
Have your vehicle picked up and returned for service
Please call us for more details on any of these offerings to help meet your needs.
In our showroom, we are taking every precaution possible to keep our dealership safe during this uncertain time.
Read About Our Prevention and Social Distancing Policies
UPDATED: July 23, 2020

SALES
As a part of Phase One as set by the governor's office, auto sales are now permissible in the state of Washington! We are taking every possible measure to open up with complete safety and health in mind. We do safety right, making it easy and convenient. We can bring the vehicle to you, you can buy it online, or come into our safe and clean dealership, preferably by appointment. We are taking our time to open the sales department in a way that does not jeopardize the well-being of our community, however you prefer to do business.
What Does This Look Like?
• We provide 100% no-touch vehicle drop off & pick up with no-touch electronic payment.
• Virtual vehicle tours with a sales representative.
• We are sanitizing every vehicle when entering and exiting, whether it is new, used, a loaner, or owned by the customer.
• We have eliminated all human/physical touching.
• We allow only one employee in a vehicle at a time.
• We have managers and salespeople working from home, as well as in-store to ensure the convenience and safety of our customers and staff.
• Any employee that gets inside a customer or loaner vehicle wears fresh, clean gloves and a face mask.
• All customer-facing employees are wearing gloves and face masks.
• Thorough social distancing measures have been implemented in every area of the dealership.
Schedule Audi Sales Appointment:

(877) 623-8394
Sales Department Hours:
Monday - Saturday: 9am - 7pm
Sunday: 11am - 6pm
SERVICE + PARTS ARE OPEN
Service is operating Monday through Friday from 7am - 6pm; Saturday from 8am - 5pm.
We provide 100% no touch vehicle drop off & pick up with no touch electronic payment.
We're also offering loaner cars, as well as the option for us to pick up and drop off your vehicle, properly disinfecting both to make sure you stay safe and healthy.
Any employee that gets inside a customer or loaner vehicle wears fresh clean gloves and a face mask 100% of the time they're inside the car.
Service Drive:
All customer facing employees wearing gloves and face masks. Social distancing marked with tape and barriers in Service drive. Client puts car key into bag. Advisor checks car in and steering wheel cover, gear shift cover and seat cover are installed in drive before car is taken to parking garage. Paperwork is completed at advisor desk. Client authorizes work via text2drive. If client is receiving loaner car, Advisor completes contract, puts phone into bag and client authorizes and signs contract. Advisor removes phone from bag and discards. Advisor gives loaner car key to client and removes plastic covers.

Schedule Audi Service:

877-660-8164


PICK UP & DELIVERY
Pick up:
Loaner vehicle pre sanitized and delivered with seat cover, steering wheel cover, gearshift cover, loaner car key in bag.  All touch points have been sanitized.  Porter wearing new gloves and mask. Once the porter and the client connect, client places their key on a clean surface and porter puts key in plastic bag and seals it. Porter then fills out loaner car agreement with phone.  Porter places phone in plastic bag. Client completes loaner authorization and signs contract. Porter retrieves phone and disposes of bag. Porter removes protective covers in loaner car and gives client the loaner car key that was in plastic bag. Porter then sanitizes clients car touch points and installs steering wheel cover, gear shift cover, seat cover and brings clients car back to service. Paperwork has already been done and has been authorized via text.
Delivery:
Once work is complete payment is taken over phone and processed if needed. Paperwork is sent digitally to client. Car has been cleaned after service is complete, touch points are sanitized and has new steering wheel cover, gear shift cover and seat cover installed. Porter returns car to client. Removes protective covers and sanitizes touch points again in customers presence. Returns clients key from bag. Retrieves loaner car key from client. Sanitizes loaner car touch points and installs new seat, steering and gear shift covers. Porter finalizes loaner car contract and returns to dealership.


PREVENTION
We are not allowing any staff member to work on our premises if they are feeling ill. Any staff member that is not feeling well is sent home immediately.
Anyone who has any form of COVID-19 symptoms (fever, cough, shortness of breath) is required to report to their manager, call their physician, seek medical assistance as recommended by their physician, and not return to work until approved by their physician or fever, symptom free for a minimum of 24 hours.
All staff members are required to frequently wash their hands thoroughly, especially after each human interaction or touching potentially non-sterilized surfaces. Staff members wear disposable gloves whenever appropriate and gloves are consistently replaced after each human interaction or when going from one vehicle to the next. Everyone must avoid touching their face with their hands.
We are consistently cleaning service customer vehicles and loaner vehicles, disinfecting all the human touch areas (door handles, shift lever, knobs, and steering wheel) with disinfection wipe down.
We are using protective coverings inside of each vehicle (steering wheel, gear shift, seats, keys, etc.). All paperwork is being sent digitally to the clients and we are offering touchless payment and signature as outlines by Audi (text or email from the client authorizing work).
Staff members in all areas of the dealership are assigned to clean all human touch areas with sterilization and disinfectant products hourly. We are receiving additional cleaning/disinfecting services from our janitorial vendor.
Maintaining a very safe, clean and healthy environment to exceed all governmental requirements and recommendations remains our highest priority.
SOCIAL DISTANCING
All staff and customers must constantly maintain a minimum 6-foot distance between all human beings at all times.
We have created workspaces and customer contact areas with a minimum of 6 foot distance between staff and customers in all areas.
We have eliminated all human/physical touching, NO handshaking, NO fist or elbow bumping, NO touching period.
We consistently limit only one person in a vehicle at a time. In the rare cases that two or more people need to occupy a car, we use the largest vehicle available, we position staff members as far apart as possible in the vehicle, and all occupants wear fresh clean gloves and facemasks.
We are allowing staff to work remotely when it is appropriate for their position. We are reducing staff hours and adjusting staff hours to minimize human contact as much as possible.
We hope you and your families are safe and healthy.

Thank you from all of us at Audi Seattle.
-Miles Richardson, G.M./Vice President
Convenient, virtually and at your door...on your terms
Shop
Work virtually with your dealership to find the perfect vehicle that meets your needs.  See one you like? Your participating dealer will bring it to you to test drive.
Buy
Experience a suite of amenities designed to help you make your purchase remotely with your convenience and safety in mind.
Own
Whether you have just purchased a new vehicle or need your current vehicle serviced, we can come to you.
Please call us for more details on any of these offerings to help meet your needs.

Hours
Monday

9:00am - 7:00pm

Tuesday

9:00am - 7:00pm

Wednesday

9:00am - 7:00pm

Thursday

9:00am - 7:00pm

Friday

9:00am - 7:00pm

Saturday

9:00am - 7:00pm

Sunday

11:00am - 6:00pm
Contact Us Today